CLASS-A 60W/ch STEREO POWER AMPLIFIER
A-75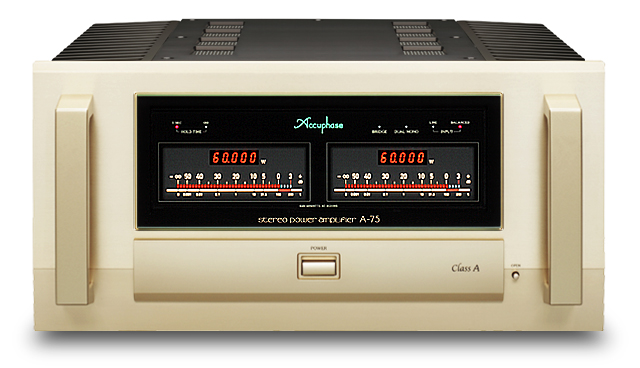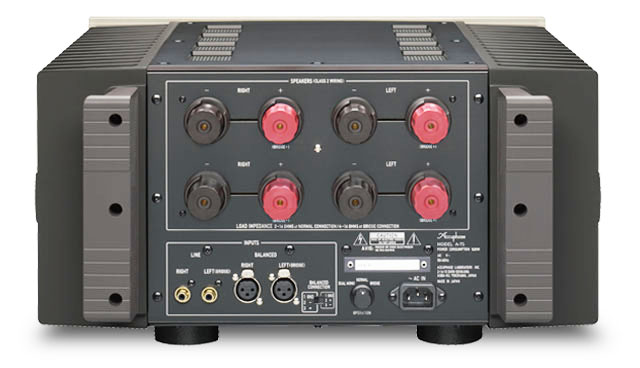 Instrumentation amplifier topology using discrete semiconductors realizes ideal gain allocation. Balanced Remote Sensing optimizes efficiency of negative feedback. 10-parallel push-pull configuration in power amplification stage. The overall result is outstanding S/N ratio and amazingly high damping factor. Furthermore, constant-voltage drive handles even drastic speaker impedance fluctuations with ease. Power MOS-FETs and other carefully selected components and materials make this Pure Class A Stereo Power Amplifier a sheer delight to experience.
Pure Class A stereo power amplifier with outstanding S/N ratio and very high damping factor
Rated for 60 watts into 8 ohms and 480 watts into 1 ohm
Power MOS-FETs in 10-parallel push-pull configuration
Instrumentation amplifier principle
All signal paths realized with discrete semiconductor components
Balanced Remote Sensing principle
MCS+ circuit topology
Current feedback amplification principle
Digital power value readout and bar graph voltage indication
Support for bi-amping and bridged mode
Specifications and design subject to change without notice for improvements.