CLASS-A INTEGRATED STEREO AMPLIFIER
E-560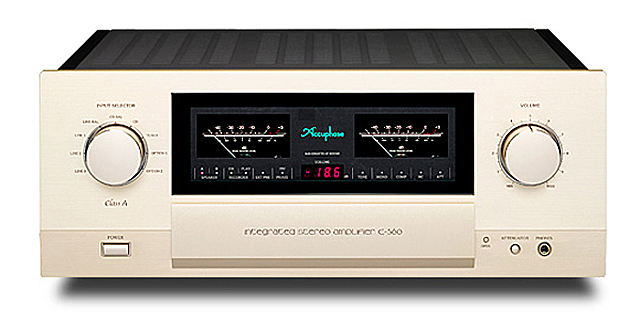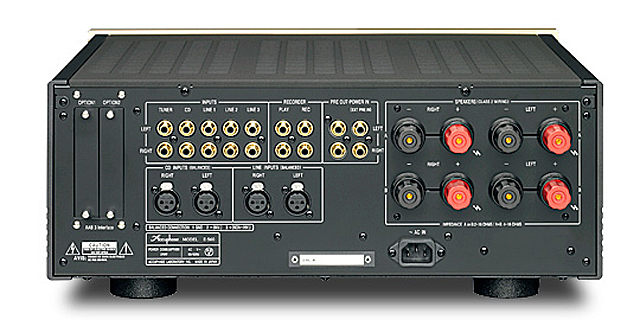 The integrated amplifiers from Accuphase operating in full class A enjoy an excellent reputation both in Japan and overseas for their outstanding musical qualities. The E-560 represents a model change from the popular E-550. While incorporating the sophisticated technological know-how gained by Accuphase over the years, it features a further refined AAVA volume control and uses the latest circuit topology and strictly selected parts of the utmost quality. The E-560 is destined to become the new reference model for high-class integrated amplifiers.
AAVA is a revolutionary principle designed for high performance and ultimate sound. It integrates the amplification and volume control tasks in a single electronic entity that uses analog processing and eliminates all variable resistors from the signal path. Its performance and sonic purity do not deteriorate over the years, providing excellent reliability. The AAVA version in the E-560 takes the principle to the next level, delivering the same peerless performance in a more compact form factor.
The power amplifier section is built as an advanced instrumentation amplifier, which enables fully balanced signal transmission throughout.
Together with the further improved MCS+ circuit topology and the highly acclaimed current feedback principle, this makes for even better electrical characteristics. In the output stage, high-power MOS-FET devices renowned for their great sound and utter reliability are arranged in a triple parallel push-pull configuration per channel.
Revolutionary AAVA volume control
Output stage with triple parallel push-pull power MOS-FETs
Instrumentation amplifier principle for power amplifier input stage allows fully balanced signal transmission and enhances current feedback and MCS+ topology
Logic-control relays for straight and short signal paths
Robust power supply with large high-efficiency toroidal transformer and high filtering capacity
EXT PRE button allows separation of preamplifier and power amplifier stage
Specifications and design subject to change without notice for improvements.

Accuphase Laboratory, Inc.
enrich life through technology