Audio Cable OFC Series
AL type (RCA-type phono plug)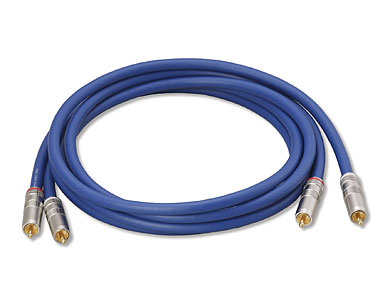 Gold-plated phono plugs provide
excellent corrosion resistance.
Since RCA-type phono plugs are normally inserted and removed many times, they must be highly resistant to abrasion and provide superior conductivity even after extended use. Another important consideration is the ability to withstand corrosion which can be caused by sulfuric gases and other contamination in the atmosphere.
The thick gold plating of the plugs perfectly fulfills all of these requirements.
ALC type (XLR connector)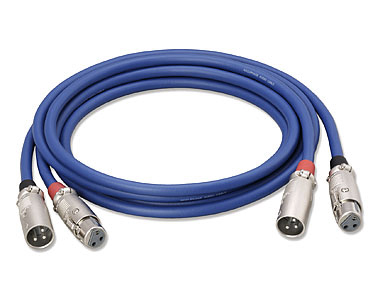 Cannon type connectors.
To accommodate equipment with Cannon (XLR) type connectors, Accuphase offers these cables with 3-pin Cannon type XLR connectors. In compliance with the BTS standard, pin is connected to the shield.
| | | |
| --- | --- | --- |
| Model number | Cable length | Plug type |
| | | |
| AL-10 | 1.0m(× 2 ) | RCA-type phono plug |
| AL-15 | 1.5m(× 2 ) | RCA-type phono plug |
| AL-30 | 3.0m(× 2 ) | RCA-type phono plug |
| | | |
| ALC-10 | 1.0m(× 2 ) | XLR connector |
| ALC-15 | 1.5m(× 2 ) | XLR connector |
| ALC-30 | 3.0m(× 2 ) | XLR connector |
5m, 7.5m, and 10m lengths in the AL and ALC series are special-order products.
OFC Series Cable Specifications
Phono plug
XLR connector
Configuration
2-conductor shielded cable
Dielectric
Polyethylene + foamed polyethylene
Jacket
Blue PVC (Polyvinyl chloride)
Center conductors
[Oxygen-free copper wire,
silver-plated soft copper wire] × 58
Shielded conductor
Oxygen-free copper wire × 192
Total DC loop resistance [m ohm/m]
33
39
Interelectrode capacitance [pF/m]
260
-
Capacitance between two center conductors [pF/m]
-
70
Interelectrode inductance [nH/m]
230
660
Insulation resistance [M ohm/km]
40
The Accuphase Oxygen-Free Copper Series cables use a densely braided outer conductor of oxygen-free copper, reliably shielding the two twisted internal conductors also made of highly pure copper. The result is a high-quality cable with negligible transfer losses and excellent resistance to induced noise. The superb performance of these cables ensures that the sonic character of top-quality audio components connected in a system is fully preserved. Listeners are able to enjoy utterly natural, well-balanced sound that gives free expression to the full musical spectrum.

Center conductor core wires are a combination of highly pure oxygen-free copper wires and silver-plated soft copper wires, providing excellent transfer characteristics.
Center conductors are formed by a combination of two types of highly pure oxygen-free copper wires of different diameter and a silver-plated soft copper wire type with low resistance. The insulation layer consists of polyethylene with high dielectric resistance and foamed polyethylene, resulting in a triple layer configuration, implemented in a dual-core design. Transfer losses as well as DC resistance are minimal.
Shielding is provided by 192 ultra-fine 0.1 mm high-purity copper wires braided to a high density, plus a layer of aluminum foil tape. This dual approach results in low capacitance and gives extra protection against any form of externally induced noise.
OFC Series Cable Cross-section View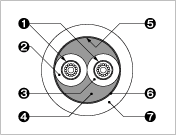 1.Center conductors
2.Dielectric (white)
3.Dielectric (red)
4.Interstitial core
5.Paper taping
6.Shielded conductor (Braided shield)
7.Jacket
Specifications and design subject to change without notice for improvements.

Accuphase Laboratory, Inc.
enrich life through technology