ASLC type (XLR connector)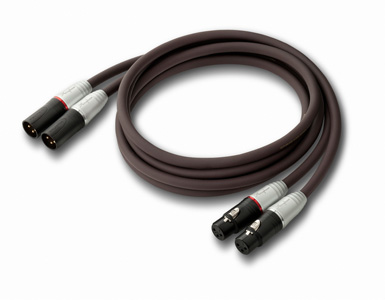 Includes XLR type connectors with gold-plated terminals with low contact resistance and superior corrosion resistance.

By using an 8-core multi-hybrid construction with 2 sets of 4 different types of wires – including class 7N high-grade copper wire – the SR Series delivers extremely pure transmission with reduced loss at the range limits.

A high-density braid and double-layer structure with aluminum foil tape over the 192 φ 0.1 mm annealed copper wires reduces capacitance and creates excellent shielding results.
Model number
Cable length
Plug type
ASLC-10B
1.0m(× 2 )
XLR connector
ASLC-15B
1.5m(× 2 )
XLR connector
5m, 7.5m, and 10m lengths in the ASL and ASLC series are special-order products.
SR Series Cable Specifications
Phono plug
Configuration
8-core multi-hybrid construction
Insulator
Polyethylene
Exterior insulation material
PVC Dark brown φ8.7
Central conductor
Class 7N high-grade copper wire
+ 3 types of copper wire
Shielded conductor
Annealed copper wire × 192
Conductor resistance (mΩ/m)
9
Capacitance (pF/m)
187.5
Inductance (μH/m)
0.51
Audio cables have to deliver impeccable 100% performance and quality from the device they are connected to without adding any unique character to the sound. We have successfully designed these high-quality audio cables by using carefully selected materials, pursuing an ideal cable structure, and persistent testing. The central conductor in the SR series uses an 8-core multi-hybrid structure while the OFC series utilizes a dual-core structure of stranded oxygen-free copper wires. Both series feature outer shield conductors made from densely braided ultra-fine copper wire to achieve high resistance to induction noise and extremely low transmission loss. Both the SR series and the OFC series with their superb transmission capabilities are finely balanced, strong, flexible audio cables that convey the subtleties of any sound.
SR Series Cable Cross-section View

Specifications and design subject to change without notice for improvements.

Accuphase Laboratory, Inc.
enrich life through technology