DDS FM STEREO TUNER
T-1200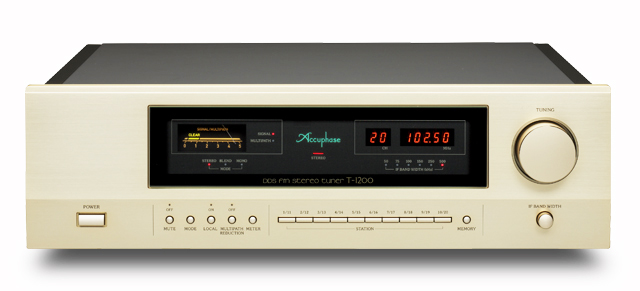 Using a blend of latest RF circuit design with sophisticated digital signal processing, most major
functions after the intermediate frequency stage such as the variable bandwidth IF filter, multipath
reduction, digital FM demodulator and DS-DC stereo demodulation have been moved to software on
the DSP chip. Manual tuning using the pulse tuning method, plus 20-station memory tuning. A digital
output provides further flexibility. Realizing impeccable sound quality and outstanding performance in
an easy to use format, this FM tuner has been developed for demanding audio and music connoisseurs.
Double-tuned front end easily handles high signal levels
Revolutionary DDS principle for local oscillator
Variable bandwidth IF filter prevents interference
Multipath reduction function
Digital FM demodulator keeps distortion and noise to a minimum
DS-DC achieves ideal stereo demodulation with DSP technology
MDS type D/A converter
Memory buttons give quick access to 20 stations
Specifications and design subject to change without notice for improvements.