Topic archives
January 2009
CES (Consumer Electronics Show) was held this year from 8th to 11th, January 2009, in Las Vegas known as a famous entertainment city in USA. Accuphase exhibited in the Show among 2700 companies participated from every corner in the world. 130,000 visitors participated the Show, sponsor announced.
Audio related companies exhibited in, 250 suite rooms of The Venetian Hotel tower.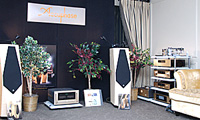 Accuphase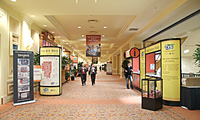 The meeting room passage of The Venetian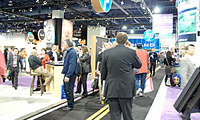 Household appliance-related Las Vegas Convention Center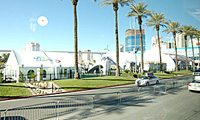 The information center of the sponsor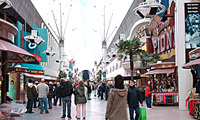 Downtown at midnight 11
Nov. 2006
President Shigemasa Saito of Accuphase and its staff members visited Dr. Peter Poltun, Director of the Archives of the Vienna State Opera on occasion of their visit to Vienna in November, 2006. During the visit, they had the opportunity to go to the Musikverein to listen to the music conducted by Myung-Whun Chung of the Philharmonic Orchestra of Radio France and the opera Rigoletto at the Vienna State Opera conducted by Renato Palumbo. Here shown are some of the photos taken on that occasion.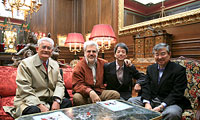 At Hotel Sacher with Dr. Peter Poltun,
the Director of the Archives of the Vienna State Opera. Dr.Poltun uses Accuphase SA-CD players as his reference standard in his daily work to monitor the famous recordings made by this world famous classical music institution.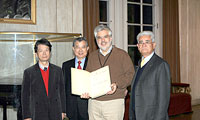 In front of the precious score of W.A.Mozart
in the Gustav Mahler Hall
of the Vienna State Opera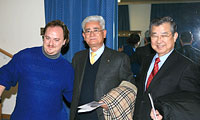 With tenor Michal Lebotsky,
who sang the part of the Duke of Mantua
in the opera Rigoletto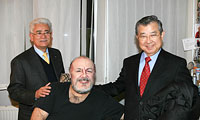 Accuphase President S.Saito with baritone Paolo Gavanelli, who sang the part of Rigoletto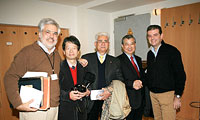 With the conductor Renato Palumbo,
who conducted the Rigoletto

Accuphase Laboratory, Inc.
enrich life through technology