CLASS-A 45W/ch STEREO POWER AMPLIFIER
A-46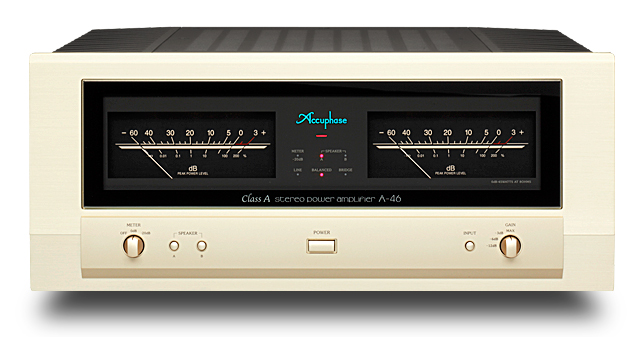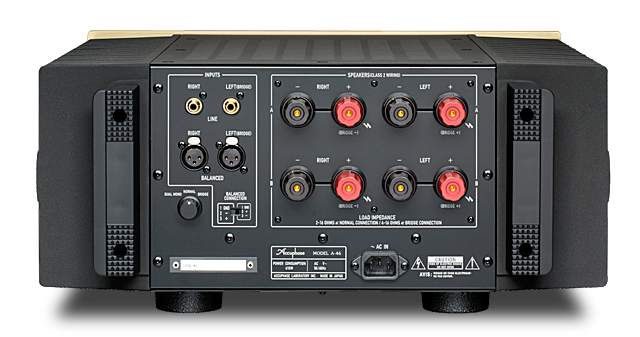 The A-46 uses latest instrumentation amplifier topology throughout, which allows fully balanced transmission in all signal handling stages. The power amplifier section features further improved MCS+ topology and the renowned current feedback approach. This results in electrical characteristics that surpass even the demanding standards set by its predecessors. Employing only highest grade materials and strictly selected parts, the A-46 realizes very low output impedance which ensures that constant drive voltage is available for the speakers.
The output stage features power MOS-FETs renowned for their excellent sound and superior reliability. For each channel, six of these devices are arranged in a parallel push-pull class A arrangement. MOS-FETs have excellent frequency response characteristics and high input impedance, which reduces the load of the preceding (drive)stage. Driving these devices in pure class A means that constant power is always supplied, regardless of the presence or absence of a musical signal.
This makes the amplifier completely immune to external influences and ensures stable operation at all times.
Pure Class A operation delivers quality power: 45 watts × 2 into 8 ohms
Power MOS-FET output stage features 6-parallel push-pull configuration
Instrumentation amplifier principle
Further improved MCS+ circuit topology
Current feedback combines stable operation with outstanding sound
Bridged mode allows upgrading to true monophonic amplifier
Large high-efficiency toroidal transformer
4-step gain control
Specifications and design subject to change without notice for improvements.

Accuphase Laboratory, Inc.
enrich life through technology