CLASS-A MONOPHONIC POWER AMPLIFIER
A-200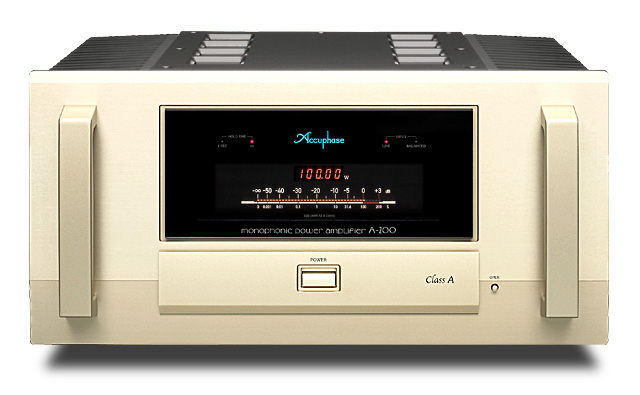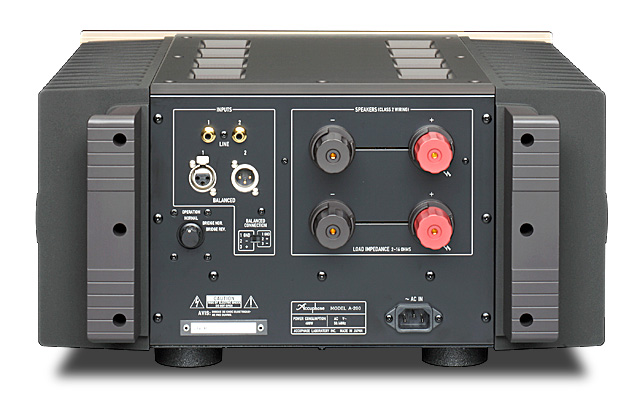 The A-200 encompasses Accuphase power amplifier know-how to the fullest. It is destined to become another milestone, taking the art of audio to the next level. In order to realize ideal speaker drive capability, the A-200 employs a structural design that exceeds even the M-6000. Two completely separate power amplifier units, each with its own dedicated heat sink on either side of the chassis, are driven in parallel.
Another outstanding characteristic of the A-200 is its enormously improved S/N ratio. By adopting the advanced instrumentation amplifier principle for the input stage in a double configuration, using only discrete electronic components instead of ICs, and fine-tuning the gain complement with the following stage, simply amazing S/N ratings were achieved: 126 dB at the maximum gain setting and 132 dB with gain set to –12 dB. These represent ultimate values even in the formidable Accuphase lineup.
Pure Class A operation delivers 100 watts of quality power into 8 ohms
Two totally identical power amplifier units driven in parallel
20-parallel push-pull arrangement of MOS-FET devices in output stage delivers linear high power progression to ultra-low 1-ohm impedance
Input section configured as double instrumentation amplifier
Double MCS+ circuit and current feedback topology in amplification stage
Support for bridged use of two A-200 units with even higher output power
Strong power supply with massive high-efficiency toroidal transformer and large filtering capacitors
Specifications and design subject to change without notice for improvements.

Accuphase Laboratory, Inc.
enrich life through technology