PRECISION STEREO PREAMPLIFIER
C-2820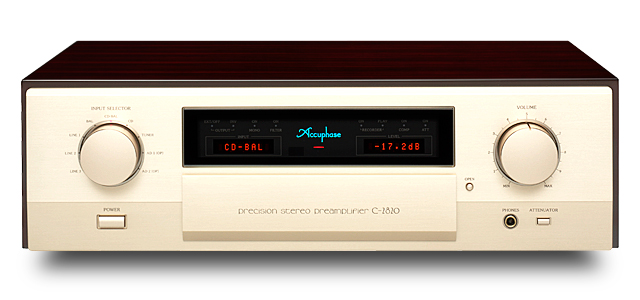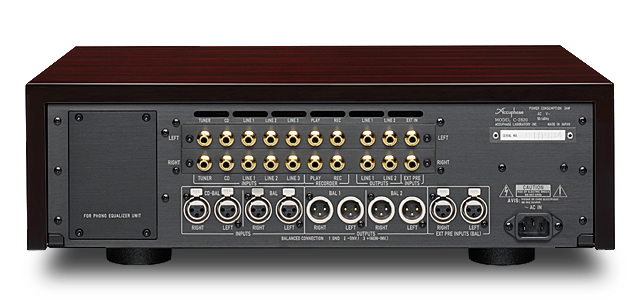 The C-2820 incorporates AAVA technology developed for the C-3800 and features strictly selected materials and parts.
AAVA is fundamentally different from the digital signal processing approach involving A/D and D/A conversion. The volume control operates purely in the analog domain. Using AAVA to change the volume means that the high S/N ratio and low distortion of the amplifier remain totally unaffected. Frequency response and sound quality do not suffer at any listening level. There are no left/right tracking differences or crosstalk, and no other performance related degradations. The conventional concept of volume control in analog preamplifiers is well and truly a thing of the past. Another benefit of AAVA is the fact that it consists entirely of highly reliable semiconductor parts, so that performance and sound quality will remain undiminished for many years to come.
The C-2820 features separate power supplies for left and right channel, each with a dedicated high-efficiency toroidal power transformer and filtering capacitors. A total of 16 units for the line input, balanced input, AAVA, and other circuit stages are arranged separately for left and right channels on a mother board. This full mono construction eliminates any risk of unwanted electrical or mechanical interaction between the two stereo channels.
The printed circuit boards are an important element of a preamplifier both regarding electrical performance as well as sound quality. In the C-2820, these are made from glass cloth fluorocarbon resin with low dielectric constant and minimum loss. The result is a product that ushers in a new era of preamplifier excellence.
"AAVA Volume Control" for high performance and outstanding sound
Separate high-efficiency toroidal power transformers for left and right channels
Selectable preamp gain
Fully modular construction with separate left/right units for each amplifier stage
Logic-controlled relays for shortest signal paths
Independent phase selection for each input position
Printed circuit boards made from glass cloth fluorocarbon resin
Elegant cabinet with natural wood finish
Specifications and design subject to change without notice for improvements.

Accuphase Laboratory, Inc.
enrich life through technology