90W/ch INTEGRATED STEREO AMPLIFIER
E-270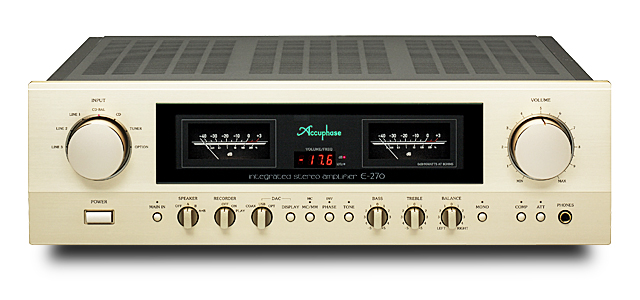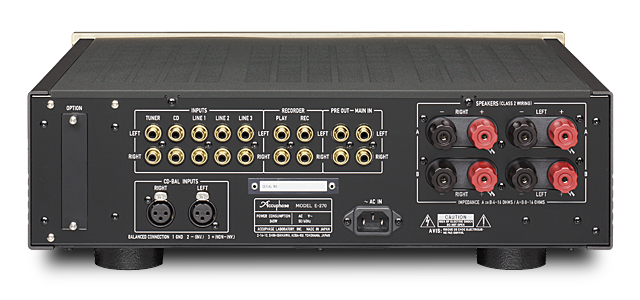 Revolutionary AAVA volume control. A power amplifier section featuring high power transistors in parallel push-pull configuration, complemented by a robust power supply and low impedance output stage. 120 watts of quality power into 4 ohms, with a damping factor of 400. Current feedback amplifier topology assures excellent phase characteristics in the high range, and instrumentation amplifier principle enables fully balanced signal paths. Power MOS-FET switches in the protection circuitry eliminate the need for mechanical contacts.
Pursuit of performance and sound quality results in capability well beyond its class, approaching the level of separate type amplifiers.
Revolutionary AAVA volume control
Output stage with high-power transistors in parallelpush-pull arrangement delivers high quality power: 90 watts x 2 into 8 ohms
Power amplifier stage features instrumentation amplifier configuration for balanced signal transmission
Logic-control relays for shortest signal paths
Strong power supply with massive high-efficiency transformer and large filtering capacitors
MAIN IN button allows separate use of preamplifier and power amplifier sections
Numeric indication of volume level
Specifications and design subject to change without notice for improvements.