100W/ch INTEGRATED STEREO AMPLIFIER
E-370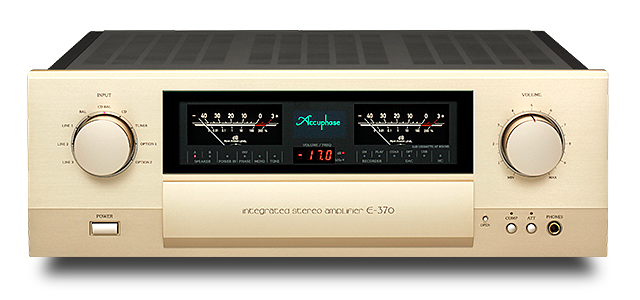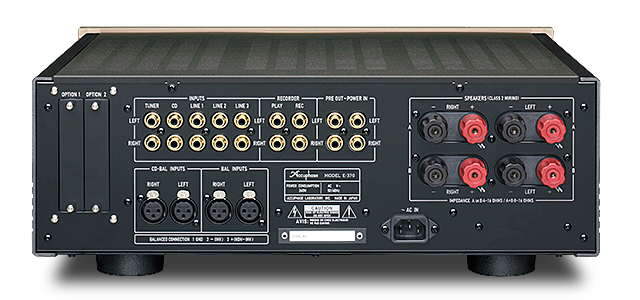 Inheriting outstanding technology from the top-of-the-line E-600 and the high-power version E-470, the E-370 represents a full model change from the E-360.
At the heart of the preamplifier section is the same version of the AAVA volume control as found in the E-600, pushing the noise floor to an absolute minimum. The power amplifier block employs the latest instrumentation amplifier topology, enabling fully balanced signal transmission in all stages. This reliably shuts out external noise interference and ensures perfectly stable operation. As a result, overall S/N ratio has been improved by 3 dB.
Other impressive features include MOS-FET switches in place of relays for speaker protection, helping to ensure superb electrical characteristics and improve long-term reliability. The circuit topology of the output stage is designed for extremely low impedance, resulting in a damping factor of over 400, demonstrating excellent speaker drive capability.
Revolutionary AAVA volume control
Output stage with high power transistors in parallel push-pull configuration produces quality power: 100 watts x 2 into 8 ohms
Instrumentation amplifier principle for power amplifier block allows fully balanced signal transmission
Logic-control relays for shortest signal paths
Strong power supply with massive high-efficiency transformer and large filtering capacitors
POWER IN button allows separate use of preamplifier and power amplifier sections
Numeric indication of volume level
Specifications and design subject to change without notice for improvements.