CLASS-A 45W/ch STEREO POWER AMPLIFIER
A-47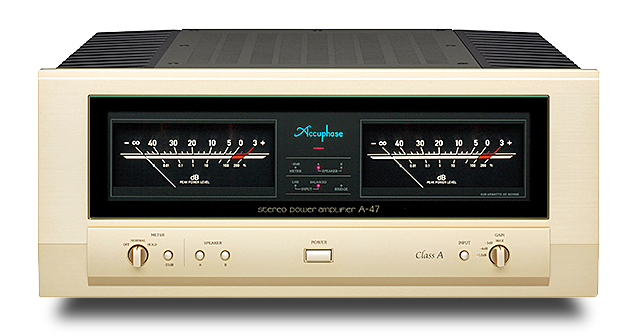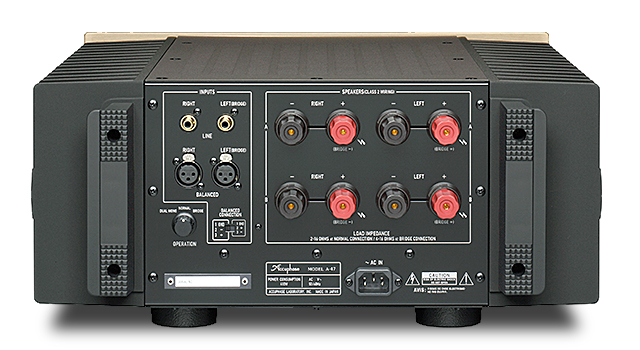 The A-47 is a successor model to the A-46, based on the design technology developed for higher-ranked models. It is a full-fledged Pure Class A Stereo Amplifier that produces truly captivating sound.
The output stage of the A-47 uses high-performance power MOS-FETs ideal for audio applications. For each channel, six devices are arranged in a parallel push-pull Pure Class A arrangement. This results in very low output impedance, ensuring that constant drive voltage is available also for low-impedance loads. Superior performance is evident from the linear power progression of 45 watts into 8 ohms, 90 watts into 4 ohms, and 180 watts into 2 ohms. The amplifier is even capable of driving ultra-low 1-ohm impedances with an amazing 360 watts (music signals only).
The input stage circuitry is configured as an instrumentation amplifier. This approach makes it possible to achieve fully balanced signal paths, extending from the signal input all the way to the final power amp stage.
Using the A-47 in bridged mode creates a mono amplifier with even more impressive power output capability, rated for 180 watts into 8 ohms, 360 watts into 4 ohms, and 720 watts into 2 ohms (music signals only).
Pure Class A operation delivers quality power: 45 watts x 2 into 8 ohms
Power MOS-FET output stage features 6-parallel push-pull configuration
Instrumentation amplifier principle used in amplification stage
Further evolved MCS+ circuit topology
Current feedback principle combines stable operation with outstanding sound quality
Bridged connection mode allows upgrading to monophonic amplifier
Large high-efficiency toroidal power transformer
4-stage gain control
Specifications and design subject to change without notice for improvements.