CLASS-A PRECISION INTEGRATED STEREO AMPLIFIER
E-600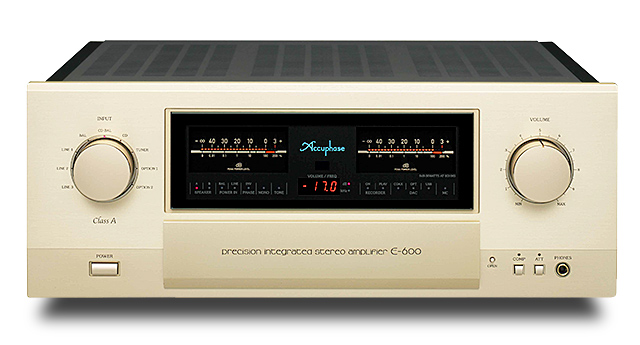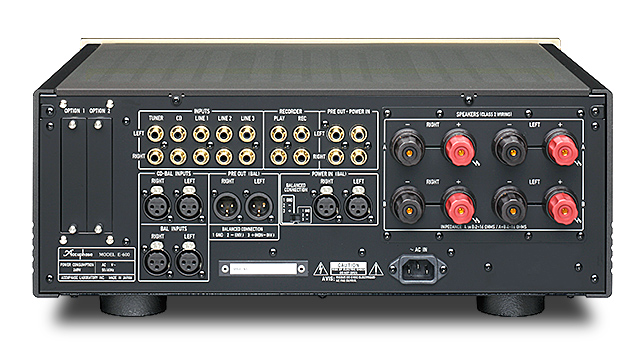 Aiming for the even higher performance level set by separate type amplifiers, the E-600 makes full use of the sophisticated design technology accumulated by Accuphase over the years. Featuring a further refined AAVA type volume control, latest circuit topology, and parts and materials of the highest grade, the E-600 is the non-plus-ultra integrated amplifier imbued with the spirit of the 40th anniversary commemorative models.
AAVA (Accuphase Analog Vari-gain Amplifier) volume control in the E-600 employs the same high-rigidity volume sensor, extruded from a solid aluminum block and featuring an ultra-massive brass shaft, originally developed for the models C-2820/C-2420. Operating the knob provides an utterly smooth operation feel. Paired with a drastic improvement in S/N ratio through low impedance circuit design, the E-600 takes both performance and build quality to a new level.
The power amplifier block is configured with the latest instrumentation amplifier topology, which enables fully balanced signal transmission throughout. Together with MCS+ and the current feedback amplification principle, this makes for even better electrical characteristics.
Revolutionary AAVA volume control
Output stage with triple parallel push-pull power MOS-FETs
Instrumentation amplifier principle for power amplifier input stage allows fully balanced signal transmission, complemented by MCS+ topology and current feedback amplification circuitry
Logic-control relays for shortest signal paths
Strong power supply with massive high-efficiency transformer and large filtering capacitors
POWER IN button allows separate use of preamplifier and power amplifier sections
Numeric indication of volume level
Specifications and design subject to change without notice for improvements.