PRECISION MDSD DIGITAL PROCESSOR
DC-1000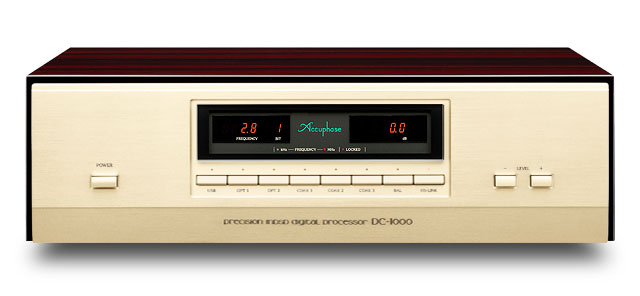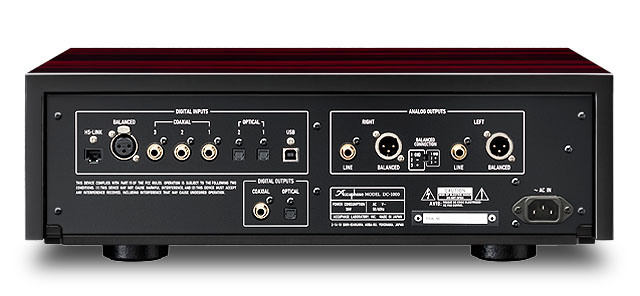 Accuphase celebrates 50 years of manufacturing with the DC-1000, a digital processor developed to deliver the ultimate in performance and sound quality. It is equipped with the ES9038 PRO (ESS Technologies) processor: an 8MDSD (DSD signal) / 8MDS++ (PCM signal) type D/A converter that drives 8 channels in parallel to deliver almost 3 times more performance than single channel converters. Low-noise technologies refined during development of the amplifiers, like amplification of ANCC and internal signals and parallel arrangement of power circuits, allow the DC-1000 to deliver unprecedented levels of emotion.
MDSD / MDS++ D/A converter driving 8 parallel channels using ANCC
Dual Direct Balanced Filter with completely separate line and balanced signals
Separate toroidal transformers for analog and digital circuits
Separate low noise power supply circuits for analog and digital circuits
Display with sampling frequency and number of quantization bits
Output level adjustments that can control different outputs from other players
Digital interface for Accuphase Voicing Equalizer
Abundant digital inputs like USBs, etc. to connect with computers (HS-LINK, USB, OPTICAL × 2, COAXIAL × 3, BALANCED)
Digital outputs that can be used in digital recording (OPTICAL, COAXIAL)
2 (BALANCED, LINE) analog outputs
Phase selector that can invert the balanced output
Active filter amplifiers use glass cloth fluorocarbon resin substrate with low dielectric constant and minimum loss
Natural grain wood case with a mirror finish crafted by artisans using carefully selected virgin wood
8 mm thick machined aluminum bottom plate
Advanced high-carbon cast iron insulators
High quality audio cable ASL-10B
Specifications and design subject to change without notice for improvements.