PRECISION SA-CD TRANSPORT
DP-800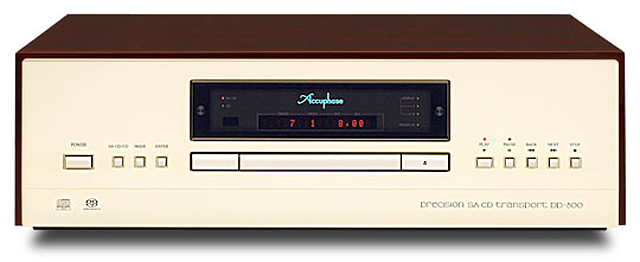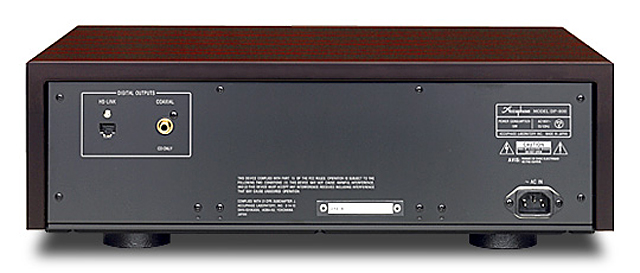 For some time now, Accuphase engineers have been engaged in an ambitious in-house development project: to create the ultimate SA-CD drive. With the introduction of the DP-800, this project has now come to fruition, culminating in the SA-CD transport mechanism incorporated in this model.
Compared to a CD drive, an SA-CD drive has a higher revolution rate, and pickup positioning accuracy as well as suppression of vibrations must be of a higher order, to allow full access to the enormous amount of information stored on the disc. This in turn places formidable requirements on the mechanical construction of the drive.
The transport in the DP-800 meets these challenges in impressive fashion, being designed to extract the information on the SA-CD one-hundred percent. The product demonstrates ultimate mechanical precision matched with ingenuity and the famous Accuphase dedication to sonic excellence.
The ultra-massive SA-CD drive combines superior rigidity with rock-stable accuracy. Truly a monumental event in the world of high-end audio.
In the transport, a digital servo with a dedicated DSP assures accurate readout of the signal recorded on the SA-CD using the DSD (Direct Stream Digital) principle. This is sustained by a single-lens/twin laser diode pickup mounted to a high-speed access mechanism.
The transport not only realizes optimal reproduction of SA-CDs, it also is capable of extracting a super accurate signal from conventional CDs. The output for both SA-CD and CD is provided via the Accuphase exclusive high-performance digital interface HS-Link (RJ-45 connector), while the CD output is also available via a coaxial connector. The HS-Link cable supplied with the DP-800 can be used for connection to the DC-801 or to other components.
Newly developed high-rigidity, high-precision SA-CD/CD drive
SA-CD transport supplies remarkably pure digital signal
Excellent signal quality also from conventional CD media
Single-lens/twin pickup high-speed access mechanism
Support for text data display
Accuphase´s proprietary digital audio interface HS-Link (carries both SA-CD and CD signal)
Dedicated coaxial output for CD signal
Power-on play feature allows automatic playback
Remote commander RC-100 (supplied with DP-800)
  ・ Controls DP-800 functions such as direct play, program play, repeat, etc.
  ・ Controls DC-801 functions such as input switching and output level adjustment
Both DP-800 and DC-801 feature massive cabinets made of persimmons Wood
Specifications and design subject to change without notice for improvements.