PRECISION MDSD SA-CD PLAYER
DP-700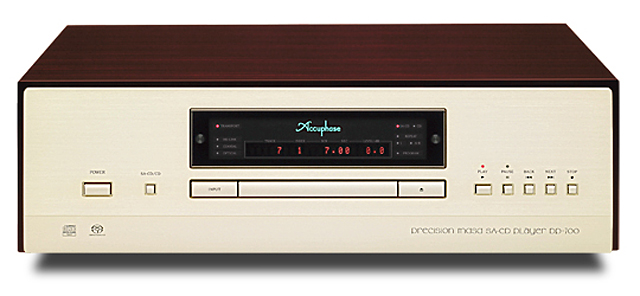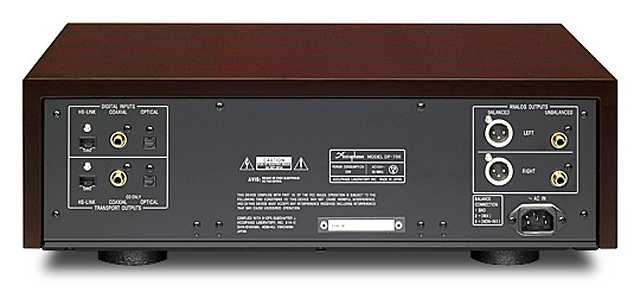 When Accuphase introduced the ultimate separate-type SA-CD/CD player, the models DP-800 and DC-801, a new epoch in audio history had begun.
Garnering worldwide acclaim both for their technological excellence and sound quality, the transport and processor pair has become the new reference for SA-CD reproduction. The new DP-700 is an integrated type SA-CD player incorporating that very same state-of-the-art technology.
In the transport section, a dedicated DSP chip controls the digital servo to assure accurate readout of the signal recorded on the SA-CD. Another vital aspect is the single-lens/twin laser diode pickup mounted to a high-speed positioning mechanism, providing a significant improvement in read access times and accuracy.
The processor section features the innovative MDSD principle forming a sophisticated moving average filter circuit, together with the MDS++ D/A system that keeps conversion errors to an absolute minimum and at the same time acts as high-cut filter efficiently removing noise components in the high frequency domain.
Internally, the transport and processor sections of the DP-700 are kept entirely separate. Digital inputs allow independent use of the processor section for external sources to enjoy music reproduction with the same superb quality.
High-rigidity, high-precision SA-CD/CD drive
Innovative digital signal processor with MDSD technology
MDS++ D/A converter with eight DACs driven in parallel
"Ultra Jitter-Free Plus" PLL circuit
"Direct Balanced Filter" with totally separate balanced and unbalanced signal paths
Transport outputs and digital inputs m Accuphase HS-Link digital interface
Specifications and design subject to change without notice for improvements.

Accuphase Laboratory, Inc.
enrich life through technology