PRECISION MDSD DIGITAL PROCESSOR
DC-901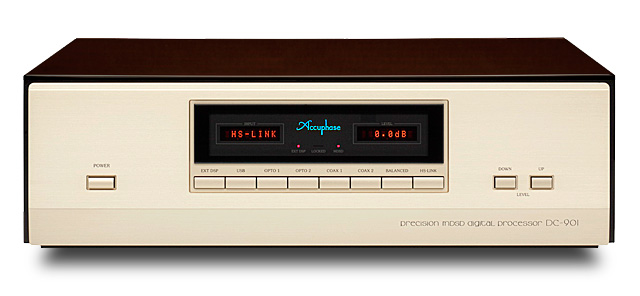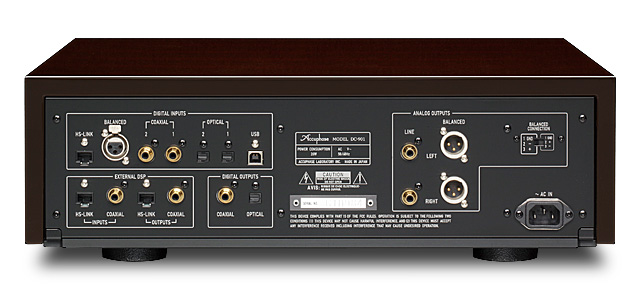 The DC-901 showcases Accuphase's mastery of sophisticated digital technology and creative circuit topology. It is a digital processor designed to bring out everything the SA-CD format has to offer. A new technique called MDSD allows straight D/A conversion of the DSD signal. Multiple DSD signals delayed through digital processing in an ultra-high-speed FPGA are converted by separate D/A converters. After D/A conversion, summation of the multiple data is performed, resulting in an ingenious moving-average filter circuit with double-speed accuracy. An important characteristic of MDSD is the use of MDS type D/A converters which keeps conversion errors to an absolute minimum. At the same time, the MDSD circuit acts as a high-cut filter with completely linear phase characteristics. The end result is a digital signal of outstanding quality, allowing the music to emerge in perfect clarity, demonstrating the ultimate potential of the SA-CD format.
Ultra-high-speed FPGA harnesses digital processing power to implement innovative MDSD reproduction with double-speed high-precision moving-average filter circuit.
Sixteen MDS type D/A converters driven in parallel. Each channel uses two Hyperstream™ DAC chips (ES9018) in parallel.
"Direct Balanced Filter" performs totally separate analog low-pass filtering for line and balanced signal paths.
D/A converter printed circuit boards made from glass fluorocarbon resin with low dielectric constant and low loss.
EXTERNAL DSP input/output connectors (HS-LINK and optical) allow insertion of DG-58 in signal path.
Seven digital inputs: HS-LINK, balanced, coaxial (2), optical (2), USB.
Coaxial and optical digital outputs.
Line and balanced analog outputs. Phase selector switch for balanced output.
Completely separate construction of digital and analog sections, each powered by a dedicated high-efficiency toroidal transformer.
Specifications and design subject to change without notice for improvements.

Accuphase Laboratory, Inc.
enrich life through technology